How to Connect Phone to LG TV? Easy Methods In 2023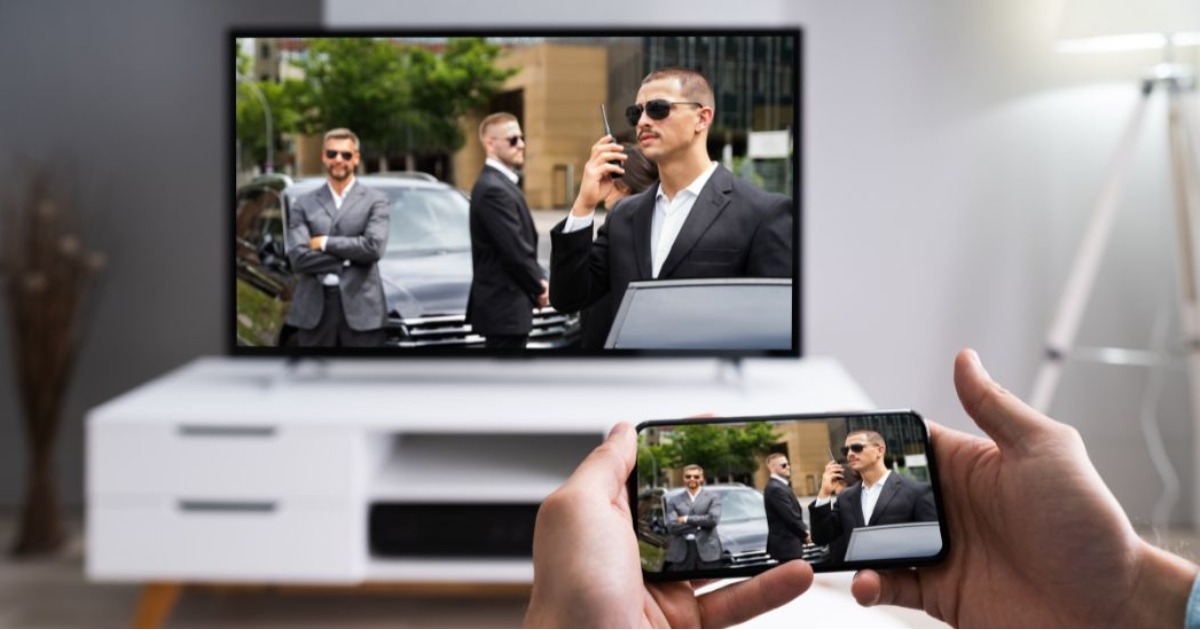 With the increasing number of streaming options available, it is becoming more accessible than ever to connect your mobile phone to your LG TV.
With the right equipment, streaming everything from movies and shows to pictures and music is possible.
This blog post will provide an overview of how to connect phone to LG TV.
Whether you're a beginner or an experienced user, this blog post will provide you with the information you need to get the most out of your phone and TV.
Let's get started!
How to Connect the Phone to an LG TV?
Connecting your phone to an LG TV is a great way to enjoy your favorite media streaming services, photos, and videos.
If you're looking to connect an Android or iOS device, the steps to connect your phone to your LG TV are quite different.
Before you start, ensure that your phone and LG TV connect to the same Wi-Fi network.
Ensure your TV and phone connect to the same WiFi
Once you've done that, here is the guide to connecting your phone to your LG TV:
Using Screen Mirroring Features on LG Smart TVs to Connect your Android Device
Step 1: Head to the home screen of your LG Smart TV and choose Screen Share.
Step 2: Select "Screen Sharing" or "Smart View" from your Android device's Quick Access menu by swiping down from the top of the screen.
Step 3: Choose which TV to use as a mirror for your device's display to connect.
Step 4: You may now broadcast what's happening on your mobile device to your LG TV via screen sharing.
Using Airplay to Connect your IOS iPhone to your LG TV
How to screen share iPhone to LG TV? Follow the steps given below:
Step 1: Turn on your TV and ensure you enable Airplay by going to the Home Dashboard > Airplay > On.
Step 2: Slide down or up on your iPhone (depending on your model) and tap Screen Mirroring.
Step 3: Choose your LG TV and enter the code appearing on the TV screen. Now, you can connect your iOS iPhone to your LG TV!
Other Methods To Connect To Your LG TV
Connecting your LG TV to other devices is becoming increasingly simple and streamlined.
Various methods exist to connect your LG TV to other devices, such as Blu-ray players, game consoles, and computers.
You can connect by component cable
Popular connection methods include HDMI, component, optical, and wireless media streaming.
HDMI cables are the most commonly used connection method, allowing for a direct connection to the television.
Component cables are an excellent option for connecting other devices, such as video game consoles, to their TV.
Optical cables are becoming increasingly popular and allow for a digital connection.
Wireless media streaming is an excellent option for those who want to connect their TV to a laptop or computer.
How to Screen Share to LG TV from a Macbook?
Screen sharing from a Macbook to an LG TV is an easy and convenient way to share content from your laptop with a larger viewing audience.
You'll need to ensure that both the Macbook and the LG TV connect to the same network.
Once you've confirmed connectivity, you can use the Macbook's built-in AirPlay system to begin screen-sharing.
Click Apple logo > System Preferences > Displays > Airplay Display and select your LG TV as the output device.
Once done, you can mirror the MacBook's screen to your LG TV.
The Content Share Option on LG TV
The Content Share option on LG TV is a great way to conveniently access content from your laptop or mobile device on the big screen.
This feature offers the ultimate flexibility in how you consume multimedia content.
With the Content Share option, you can stream movies, music, photos, and other forms of media directly to your LG TV without needing additional hardware or cables.
Plus, you can use your smartphone or tablet as a remote control to browse and select your content.
This makes sharing content with family and friends easy and creates a truly immersive viewing experience.
Content Share lets you access all the latest movies, TV shows, music, and more from your home.
Final Thoughts
In conclusion, connecting your phone to your LG TV is now easier than ever, with several different methods available.
The easiest method is using a shared screen to connect your phone to an LG TV. This method lets you enjoy the same content on a bigger screen.
Thank you for reading about How to Connect a Phone to an LG TV. We hope that you can now connect your phone to LG TV easily.