What Do I Need For A Basic Home Theater System?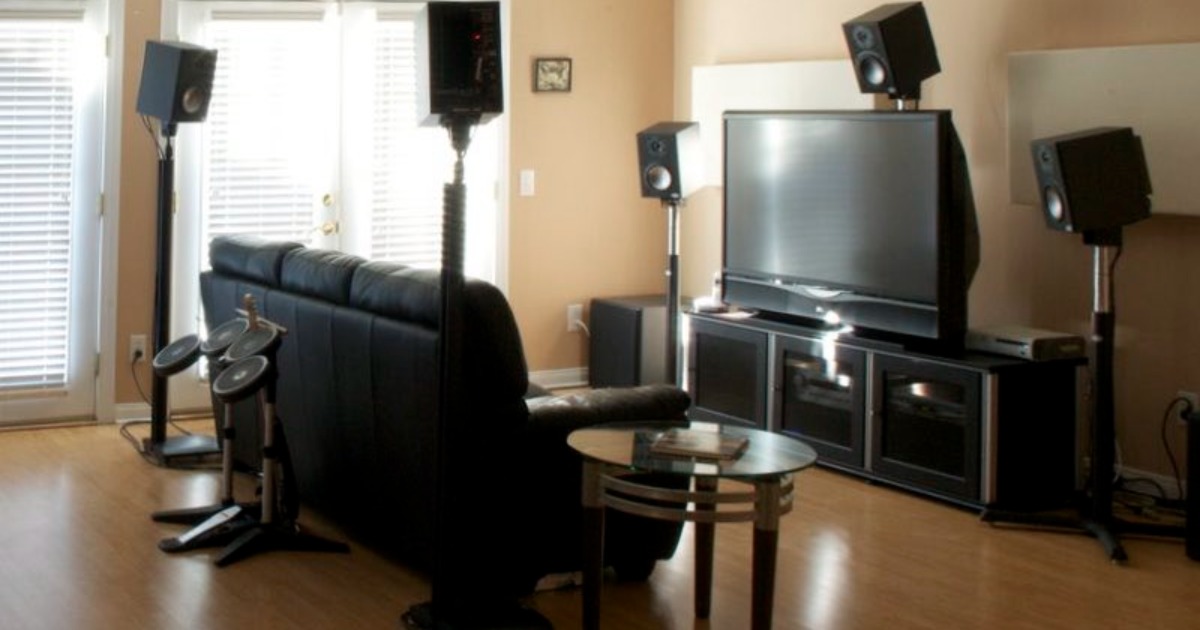 A home theater is quite simple to set up and will give you excellent visual and audio experiences. What do I need for a basic home theater system?
To set up a home theater system, you will need to prepare the following components.
In this post, TheAudioCritic will give you more details about these items.
Let's check it out!
You can set up a cinema box at your house.
What Do I Need For A Basic Home Theater System?
The setup of a home theater system will depend on your needs. In the simplest form, you just need a widescreen TV and a good set of speakers.
However, to have the best experiences when watching TV shows or listening to music, you can refer to the items listed below.
Room setup
First, you will need a space to make it your home theater. If you choose a large room, the screen size will also be large and vice versa.
In addition to the size, there are some things you should consider when choosing a room.
Ambient light
The ambient light of your room will affect the quality of images on the display screen.
If you use a TV, too much ambient light can cause glare or reflection on the screen. In the case of video projectors, you will see blurred images due to ambient light.
Floors
The floor of the room will have influences on the sound quality.
You should carpet your floors instead of using hard floors. Carpeted floors will absorb sounds better and prevent unwanted echoes.
Wall construction
The best wall construction for a house cinema box is drywall. This wall construction may cause some vibration, but you can fix it by adding acoustic treatments.
Speaker position
The position of your speakers also affects your listening experience. Mounting speakers on the ceiling or wall will bring better sound effects to the room.
Your seat
Where you sit will also decide the size of the display. The greater the distance between you and the screen, the larger the screen.
Display system
The display system is the most crucial part of your theater. You can choose between a TV or a video projector.
The current TV market is very diverse in terms of models and sizes. You can get an OLED or LCD/LED TV at an affordable price. Besides, modern TV with screen sizes larger than 40 inches have 4K Ultra HD resolution images.
If you want a more theater-like vibe, a video projector will be your best bet.
Video projectors also come with various options of resolution images. However, this display system requires the high darkness of your room for the best visual quality.
A video projector will give you a more theater-like vibe.
Receiver
To control the surrounding sounds of your theater, you need a receiver. This receiver will integrate the function of both the preamplifier and amplifier.
It will receive the input signals from selected videos and audios and process them. Then it amplifies these signals and sends them to the subwoofer and loudspeakers.
You can buy an AV receiver or buy a preamplifier and an amplifier separately. This combination will be more flexible but will cost you more than a receiver.
Loudspeakers
The next item in the list of basic home theater components is the loudspeaker. Generally, you will get a set of several speakers for the best surrounding sound.
You can choose floor-standing, wall-mounted, in-wall, or in-ceiling speakers depending on your room.
Different types of loudspeakers.
Subwoofer
A subwoofer is an essential item so that you can enjoy movies like watching in theaters. Its function is recreating the low frequencies in music or videos.
You should consider your room size and floor type to pick the right subwoofer.
Source components
Source components provide videos, music, and other media for your display. To diversify your media sources, you should have the following source components.
Ultra HD Blu-ray Discs player
This player is a recommended component if your TV is a 4K Ultra HD TV. It will bring you movies and videos with the 4K resolution. Besides, this player also supports Blu-ray Discs, DVDs, and CDs.
Cable, satellite, or antenna
To watch TV programs, you will need one of the three devices above. The cable or satellite service will require a DVR to transmit audio and videos.
Internet streaming device
This device allows you to watch content online through an internet connection. If you use a smart TV, you can connect it to the internet for watching movies or listening to music online.
Surge protectors
Your theater includes a lot of electrical devices. If a surge of power occurs, these devices will get damaged. So, you need to install surge protectors to protect your devices in such cases.
Cables and wires
To properly operate your home theater, you need to connect the equipment with cables and wires.
It's necessary to use the matching cable with your devices.
You should pay attention to the gauge of speaker wires. Thin wires can reduce sound quality when transmitted over long distances.
It's necessary to use the matching cable with your devices
Remote control
You have set up dozens of devices and thereby have an equal number of remotes. To avoid confusing them with each other, you can get a universal remote.
Another option is to install remote control apps on your smartphone. These apps will turn your phone into a universal remote, and you can control all the devices with it.
Furniture
When you complete the electronics setup, it's time to place some furniture in your cinema box.
Basic furniture includes lounge chairs and a table. You can add some other furniture you like. You should choose comfortable chairs to have a relaxing time when enjoying TV shows.
You should choose comfortable chairs.
Related:
Things To Remember When Planning A Home Theater System
There are many things to buy and prepare for your theater setup. So, you may make some mistakes when planning your dreamed cinema box.
Here are some things you should keep in mind to have a perfect and well-functioning system.
Choose the right TV size
Many people tend to buy a TV without regard to seating position or room size. So, they often buy excessively large screens that result in poor image quality.
The TV size needs to correspond with the viewing position. For TVs with a screen resolution of 1080 or less, you need to watch at a distance twice the screen width.
However, for 4K Ultra HD TVs, you can shorten the distance by about 20% to 30%. The high resolution makes the pixel lines smaller, so the image quality will still be high.
Besides, buying small TV is also a mistake you may make. You won't have good visual experiences when you watch a small TV from a long distance.
So, you need to make some measurements for your room before picking any TV.
Pay attention to room lighting
As we mentioned, the light in your room will affect your visual experiences.
Whether you use a TV or a video projector, your room should be dark. You can watch a TV if you darken 50% of your room. But a video projector will need higher darkness for the best operation.
Therefore, your curtains should be thick enough to prevent light from passing through. Also, the position of your TV should not be opposite any window to avoid reflection.
The ambient light will affect your visual experiences.
Buy the right speakers
Like the TV, you should choose speakers that best suit your room. In-ceiling and in-wall speakers may be complex to set up. So, floor-standing and bookshelf speakers will be better choices.
If your room is large, some floor-standing loudspeakers will give you the best surrounding sounds.
However, for small rooms, bookshelf speakers are more suitable. They are compact and won't take too much space, but they can fill your room with excellent sounds.
Make proper arrangements for cables and wires
The more equipment you have in your theater, the more cables you use. And if you don't arrange them properly, they will mess with each other.
To prevent this problem, you should use cables of the right length and mark them with different color tapes. Besides, you can reduce the number of cables used by using wireless devices instead of wired ones.
Always read the instruction manuals
Though you get used to connecting everything, you should check the instruction manuals of each component. In this way, you can minimize the risk of damaging your devices due to incorrect installation.
If you can't find the manual of any equipment, you can search for it on the official website of the manufacturer.
Buy what you need
Shopping by the brand is the common mistake of many people when they build their home theater for the first time.
Many products of the infamous brand have very high quality and affordable prices. Thus, instead of choosing by the brand, you should consider your needs and budget to get the right product.
Buy what you need
Final Words
Above is the list of the necessary items for a basic home theater. To set up a cinema box in your house is not difficult, but it requires some careful attention.
When gathering the items, you should check their compatibility to ensure that they can work well together.
Thank you for your interest in the article!