Are Projectors Better Than TVs? The Correct Answer Is Here!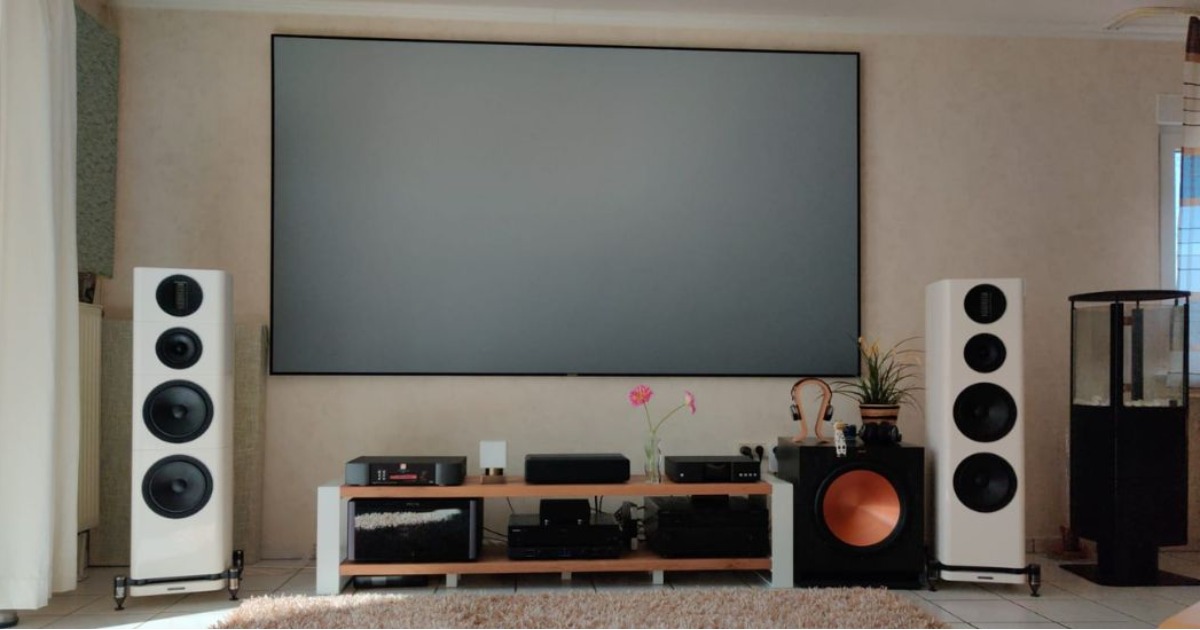 Are projectors better than TVs? When picking out components to upgrade or build your home theater system, one of the first decisions you need to make is whether to invest in a projector or a TV.
If this question had been raised a decade ago, when projector making was still in its infancy, the most likely answer would be TVs.
Today, projectors have entered the world of 4K, giving users a cinema-like experience. So, this is a well-balanced battle.
Now, let's scroll down to see more!
Are Projectors Better Than TVs?
There's no wrong answer. Each item has its advantages, and you should consider many factors before making a final choice for your needs.
Brightness
Brightness is another big consideration to be considered with your choice.
The brighter your room, the more brightness your chosen project needs to produce to ensure the picture doesn't wash out.
The higher the brightness of the projector, the more expensive it is. Most projectors, which produce between 1,500 to 3,000 lumens, cost about $2,000.
Remember that projectors' actual brightness may be much lower once it hits your eyes as they bounce light off a screen.
The projector and screen combination works to get nearly as bright as a budget LED TV. Also, projector bulbs may dim over time and ultimately burn out, leading to costly replacement.
Most $1,000 + LED TVs and higher-end techs, like QLED or even QD-OLED, can efficiently produce a much higher brightness.
Note that the brightness of TVs is measured in lumens instead of nits. If you can make your viewing room dark, the reflected light of a projector can be comfortable to watch.
Resolution and HDR
Many 4K TVs are under $500
These days, home projectors have a similar place to HDTVs, with various models with high resolution and support for video standards like HDR. It puts projectors on equal standing with most standard TVs today.
4K resolution projectors with similar image features are typically significantly more expensive than comparable TVs. They're around $1,500 and more, while many 4K TVs are under $500. Hence, features may be similar, but you must pay much more to get them on home projectors.
Size
Projectors used to outperform TVs regarding size, but this gap is no longer significant these days. It is easy to buy an 85-inch TV for about $2,500.
However, projectors are still a budget-friendly option. For significantly less, you can buy a decent model ranging from 100 to 120 inches with good color reproduction, solid brightness, and even 4K resolution.
Color accuracy
You do not have to spend much to get decent color from projectors.
Depending on the type of projector (3-chip LCD, LCOS, or DLP), you can gain great color at a nice price.
Conversely, TVs typically require better processing and more effort to deliver the best color, thus driving the price.
Most 4K TVs can deliver a wider color gamut than the majority of projectors, but projectors are also very close.
This is especially true for TVs with HDR (high dynamic range), though video projectors with HDR are also more common.
If you look at price-to-performance, TVs are the winner. If the price does not matter, and you can buy a large sum into a light-controlled projector room, getting a much larger image with excellent quality is possible.
Sound Quality
TVs are the better choice here for a simple reason: TVs typically have decent speakers. Some projectors also have speakers, which are typically tiny and are often positioned above or behind viewers' heads.
Installation
TVs are typically easier to install. Large TVs may be fragile and heavy, but they're simple to place in a home theater setup and easy to use.
They can act as great unifiers for your equipment and devices, as everything can be plugged directly into your TV and controlled via the remote in most cases.
Installation is relatively painless except for mounting your chosen TV to a wall. Even if you opt for a wall-mounted TV, you can complete the project yourself. If you get help from an installer, the job will be cheap and quick.
Projectors may be complicated, as they require more effort to install. While the short throw projector makes it a much easier, albeit more expensive, option.
The first issue involves the screen. You must prepare the necessary space as these screens are large. Also, you need to route HDMI cables to the projector or choose wireless transmitters that will add to the cost.
So we recommend hiring a professional installer or at least doing a serious study of the installation guide from the manufacturer.
Portability & Outdoor Use
Many projectors are designed to be moved around and taken outside
Once your TV is installed, it will not move often. That is true for wall-mounted TVs and all home theater screens.
On the other hand, projectors are compact enough to move, and if they aren't ceiling-mounted, they can easily reposition elsewhere when needed.
Many portable home projectors are designed to be moved around and taken outside for movie nights.
Pros And Cons projectors and TVs
Both the projector and TV have their own advantages
Projectors
Pros
Easy to move.
Deliver larger screen size.
Projectors are generally cheaper than comparable HD TVs.
Projectors can give a more comfortable viewing experience.
Cons
Difficult to install.
A projector's performance is affected by ambient light.
Projectors require the cost of periodically having to replace their lamps.
TVs
Pros
Easy to install and set up.
Great sound quality.
The performance is excellent
Not affected by any ambient light
Cons
Conclusion
Are projectors better than TVs? When deciding between a projector and a TV, there's a lot to think about. Each has its own advantages, and the choice is yours. Consider all factors to choose the one that works best for you.
Thank you for your interest in the article!