What to Look For in a Projector? A Comprehensive Guide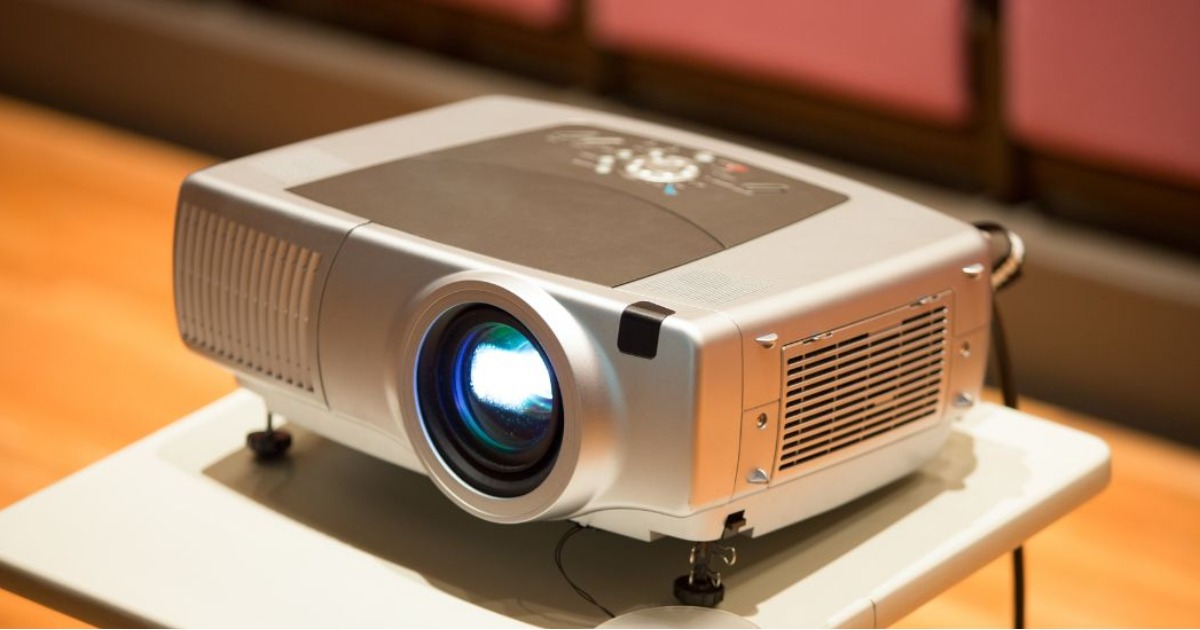 What to look for in a projector? Projectors have long been used as presentation tools in business, commercial, high-end home theater systems, and education.
With various projectors available nowadays, choosing a projector will be a stroll in the park if you have all the proper knowledge and information.
So pay attention to the following aspects to make the best buy!
What to Look For in a Projector?
Some main factors to look at when choosing a new projector.
Here are some main factors to look at when choosing a new projector:
Cost
Projector prices may vary dramatically, ranging from budget models under $100 to high-end 4K projectors worth about $2,000.
Price

What to Expect

>$100

2000:1 contrast ratio.
No SD card slot.
No wireless connectivity.
Minimal speaker output.
It must be used in the dark.
480p image resolution.

From $100 to $500

3,000:1 contrast ratio.
It must be used in the dark.
480p image resolution.
Support for VGA, microSD, HDMI, and USB inputs.
No wireless functionality.
3.5mm audio output for speakers and headphones.

From $300 to $500

720p image resolution.
Some wireless functionality.
Must be used in dim lighting.

From $300 to $500

720p image resolution.
Some wireless functionality.
Must be used in dim lighting.

From $500 to $1,000

15,000:1 contrast ratio.
Some wireless functionality.
1920x1080 image resolution.
Good enough for gaming.
Clear during the daytime.

<$1,000

Ideal for gaming.
Connect to wireless devices.
Automatically corrects image distortions.
Produce a 4K image that is completely clear during the daytime from any angle.
LEDs, Lamps, and Lasers
Apart from DLP and LCD technology, you can consider whether the light source in a projector is an LED, laser, or lamp. All these choices have their pros and cons:
Video projectors with lamps must be changed after around 3,000 up to 4,000 hours of use. But some models offer upward of 5,000 hours of use.
Models that use lasers or LEDs as a light source have a much longer life, typically up to 20,000 hours or even more.
Compare the light source life of projectors LCD/LED or OLED TVs, which last over 60,000 hours with smaller screen sizes.
Light Output & Brightness
Without enough light, video projectors can't display bright images. Low light output may make the projected image look muddy and soft, even in dark rooms.
By checking the ANSI Lumens rating, you can determine if projectors output enough light to form bright images. It'll tell you how much light a projector can produce.
Screen size/distance, ambient room light connections, and room size can also impact the need for fewer or more lumens. Although the light output capabilities of video projectors have been enhanced, they still work best in darkened rooms.
Contrast Ratio
It involves the ratio between the white and black portions of an image. Higher contrast ratios will deliver blacker blacks and whiter whites.
Some projectors may have an excellent Lumens rating, but the image may look blurry with a low contrast ratio. A ratio of at least 1,500:1 is ideal for darkened rooms, but 2,000:1 or higher is excellent.
Color Reproduction
You should check for color depth and natural flesh tones, how colors look in the darkest and brightest areas of the image, etc. Everyone has a bit of difference in color perception and what looks pleasing to them. Hence, look carefully.
Pixel Density & Display Resolution
Another factor worthy of consideration is Pixel Density (or display resolution). DLP and LCD projectors both feature a fixed number of pixels.
If you prefer HDTV viewing, getting a pixel count that is as high as possible is wise (preferably 1920x1080).
A pixel count of 1024x768 is enough for a DVD. But 720p HDTV signals require a pixel count 1280x720, while 1080i HDTV input signals need a 1920x1080 pixel count.
If you own a Blu-ray Disc player, we recommend considering projectors with 1920x1080 pixel resolution to display the 1080p format.
Want to jump into the 4K area? Remember that besides the higher price range, 4K projector projects do not always have true 4K resolution.
Portability
A portable projector allows you to enjoy your favorite movies outdoors.
This factor is vital for traveling or moving with your video projector. It also simplifies the setup and installation and makes it easier to try out different distances, rooms, and screen sizes to see which arrangement suits you best.
With a portable projector, you can enjoy your favorite movies outdoors, which is a great experience.
Inputs
Ensure your chosen projector comes with all the inputs you need. These days, all projectors provide HDMI inputs, and most also feature DVI or VGA inputs for computers.
But if you own older source components with the component, S-video, or composite outputs, remember that many newer projectors no longer deliver those options or may have composite video inputs.
FAQ
Do I have to buy a projector screen?
The answer is No. A white sheet, wall, and other light-colored semi-reflective surfaces will work. But you should invest in a quality screen to have the best image from your projector.
Are projectors good for gaming?
Gaming projectors.
Yes, as long as you invest in the proper projector for gaming. Regular projectors will not be ideal for gaming. Suitable gaming projectors must deliver a high resolution, low input latency, and fast refresh rate.
Should I buy a TV or a projector?
The answer is it depends. When choosing between a TV and a projector, think about your specific needs. A TV is best for daily use. Meanwhile, a projector is ideal for special occasions or niche applications.
The Bottom Line
Projectors can be used for multiple purposes, and you want the best light, proper size, and tailored to your needs. Never judge a projector on its price tag alone. Instead, look for one that suits you!
Thanks for your time!