The Best Ultra Short Throw 4k Projector For 2023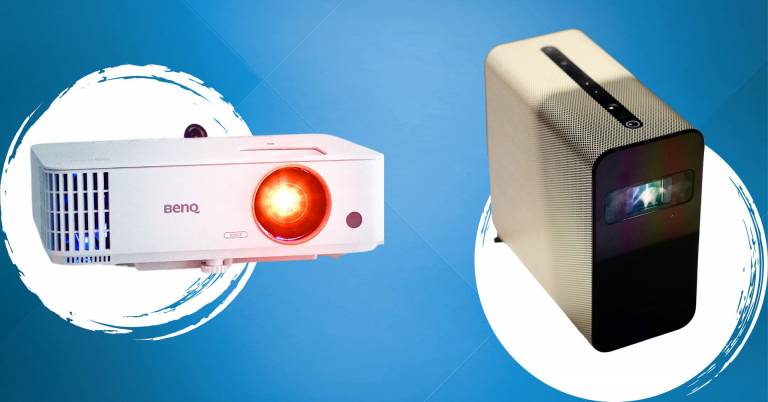 The Rundown
1. Best Overall: ViewSonic X2000B Projector
Perfect for the classroom, meeting room, or home theater, the ViewSonic X2000B projector delivers a huge image and powerful performance. With 4K UHD resolution and a screen size of up to 150 inches at 2000 lumens, this projector is perfect for any occasion. The productivity gets a boost with a long lamp life of up to 20,000 hours and a 0.23 ultra-short throw lens that can be placed just inches away from a wall or screen. Read Review
2. Best Bang For The Buck: Hisense PX1 Projector
Packing an impressive 4K Ultra HD resolution and the latest Dolby Atmos sound, the Hisense PX1 Projector delivers a huge screen and an immersive experience. With a 90-130 inch screen size, it creates images with over 8 million pixels that come to life with impressive clarity. It also uses lasers that produce 107% of the color space making colors pop in every hue. Read Review
3. Best Efficient: XGIMI Aura Projector
The XGIMI Aura Projector is a great new option for anyone who needs a projector in their home. With a 120" screen size and 2400 ANSI lumens of brightness, this projector will provide you with a crystal clear picture every time. Its speakers are paired with DTS HD and Dolby Audio for premium surround sound. The Google Assistant allows you to control your projector, as well as other smart devices in the home with your voice. Read Review
4. Best Performance: AWOL VISION LTV-2500 Projector
The AWOL VISION LTV-2500 projector is perfect for any home or office, with an amazing 4K UHD resolution that provides a stunning 150-inch 4K cinema experience. This machine comes with superior sound and Dolby Atmos technology that delivers crisp, clear audio from every seat. The machine's vivid picture features over 1 billion colors to give you a more realistic and vivid view of your movies and TV shows. Read Review
5. Best Reliable: JMGO O1 Pro Projector
It's easy to convert any surface into a big screen with the JMGO O1 Pro projector. It only takes about 9 inches from the wall to project a large 70"-110" screen. Durable with a lamp life of 45,000 hours, this projector produces powerful stereo sound out of its 10-watt speakers. Read Review
As more and more people are adopting the digital lifestyle, they are also looking for ways to increase the number of people who can see what they're watching at the same time. With televisions getting smarter and 4k resolution becoming the norm, there is simply no better time than now to invest in a projector. And if you've got a spare room or a basement, it'll help you bring your favorite movies and shows right into your home in all their 4k glory.
To make this possible, you need an ultra-short throw projector. These projectors have a long throw distance so they don't need much space in front of them to work effectively. They can point straight up into the ceiling and project their images down onto the wall or screen exactly where you want them. This means that even renters living in small apartments won't have any trouble enjoying movies as part of their new digital life! Read on to learn more about what an ultra-short throw projector is, how it can impact your home theater, as well as our recommendation for the best model available today.
We think the best ultra short throw 4k projector of 2023 is ViewSonic X2000B Projector. This projector is built for the ultimate multimedia experience with 4K UHD resolution, up to 150-inch screen at 2000 lumens, 0.23 ultra-short throw lens that can be placed just away from a wall or screen. inches, long lamp life of up to 20,000 hours, and premium sound. These advantages combine to create a perfect product for you. However, in order to provide the reader with a wider variety of alternatives, we recommend adding a Hisense PX1 Projector if you are interested in purchasing another appealing one.
Here are the buying guides that we specially made for you guys. Follow all the words below for successful shopping!
RELATED: Looking to buy correct best laser projector for gaming? We cover all use cases. Compare quality, prices, and customer reviews to find the best one for you.
Our Top Picks
TOP Choice #1
FLEXIBLE CONNECTIVITY: Supports most media players, PCs, Macs, and mobile devices with smart connectivity via Wi-Fi, Bluetooth, HDMI ARC, and USB input
BIG SCREEN HOME THEATER: Immersive theater-like experience in 4K UHD (3840x2160) and HDR/HLG support, on a screen up to 150 inches in 2000 LED lumens
IMAGE CORRECTION: Warping adjustment and 4-corner adjustment ensures proper image alignment
VIVID COLORS: Cinema SuperColor technology with 125% Rec. 709 wide color gamut produces lifelike colors for a fuller, more immersive viewing experience
PREMIUM AUDIO: Built-in Dual Harman Kardon Bluetooth speakers with Dolby/DTS support deliver room-filling audio
LONG LAMP LIFE: Advanced laser light source allows the projector to shine bright for up to 20,000 hours
INCLUDED IN THE BOX: X2000B-4K Projector, Power Cable, Remote control, and a Quick Start Guide
ULTRA SHORT THROW: With a 0.23 ultra-short throw lens, this projector can be placed just inches away from a wall or screen to give you a huge image
TOP Choice #2
90-130 Inch Display Size: With adjustable focus, the PX1 can project images from 100-130 inches with razor-sharp focus for maximum viewing immersion.
2000 Lumens: The PX1 produces a beautifully bright picture that's perfect for home cinema where color accuracy and contrast matter most.
4K UHD, HDR10: 4K Ultra HD brings more than 8 million pixels to life with incredible clarity across the extra-large projection. High-Dynamic Range expands color and contrast for greater vibrance, depth, and detail.
30W Dolby Atmos Sound: With 30W Dolby Atmos sound, the PX1 sounds a lot bigger than it looks. Enjoy clear speech, crisp highs, and booming lows without needing any extra gear.
Triple-Laser UST: The PX1 uses pure red, green, and blue lasers to produce 107% of the BT.2020 color space. That's color that even the best TVs cannot reach.
TOP Choice #3
ANDROID TV 10.0: Simplified access to 5000+ apps powered by the latest Android TV OS and easily navigable via Google Assistant voice control.
Harman Kardon Sound: Two tweeters and two woofers at 15W each paired with DTS HD and Dolby Audio emit premium room-filling surround sound.
Note: AURA should project onto a flat wall if not using a screen. Otherwise, you may experience poor projection quality. If you notice a "wavy" distortion when casting an image, please adjust the display with AURA's manual 8-point correction feature. For a better viewing experience, we recommend using a 88"-100" Ambient Light Rejection (ALR) projection screen designed for laser projectors. Using ordinary electric screens and floor screens with AURA is not ideal.
Intelligent Eye Protection: The integrated automatic light dimmer, powered by advanced IR sensors, detects any presence and immediately dims the laser, effectively shielding your eyes from damaging radiation.
Razor-Sharp Imagery: 4K UHD, 2400 ANSI lumens, DCI-P3 color gamut, and HDR10 technology are fused wonderfully to provide staggeringly crisp images and vivid, lifelike colors that seem to jump off the 120" screen. With AURA, you'll watch every movie the way the director envisioned.
Ultra Short Throw Technology: Place AURA 11.7'' away from any wall and get a 120'' screen size. 8-point keystone correction and 4-point keystone correction lets you manually adjust the projected image for a better viewing experience.
4
Cinematic 3D Display: With a pair of active shutter 3D glasses, LTV-2500 steps you into a whole new world, you can pop in a 3D Blu-ray for immersive 3D films at home
America Based Service: Based in Delary Beach FLorida, AWOL VISION opens up the 1st UST Projector Specialty Store in US for live experience. In addition, we provide 2 year warranty and US based 24/7 customer service and local maintenance. Phone and Livechat assistant are available
Picture Comes Alive with 1+ Billion Colors: The AWOL VISION 4K UST projector covers 107% of the top BT 2020 Color Gamut. It reaches 147% of DCI-P3 used for digital movie theater projection, giving you superior contrast and color accuracy. Watch a movie on any wall and experience brighter colors, dazzling whites and intense blacks
A Crystal-Clear Resolution: Featuring 4K UHD and HDR10+ image processing, the AWOL VISION casts images with the clarity and precision of 8.3 million distinct pixels
Superior Sharpness on 150'' Screen: Equipped with customized top of line F2.0 glass lens from Japan premier brand, it makes the sharpness even on the edge of the 150'' screen
3 Pure Lasers without Color Wheel: Unlike UST projectors with color wheel, our advanced optical system uses pure RGB triple lasers to deliver the colors directly. It greatly improves the color vibrance, reduces the noise and rainbow effects
Crowdfunded: Over $1M on Indiegogo in 30 days
Bring The Cinematic Experience to Your Home: AWOL VISION LTV-2500 powered with a cutting edge Triple Color Laser without Color Wheel Technology,4K UHD and HDR10+, brings you a stunning 150", 4K Movie Theater experience. Coupled with exceptional audio immersion technology with Dolby Atmos, LTV-2500 is the most colorful with details' ultra short throw 4K laser projector for controlled light environment
Ready to Stream: Patented TV Stick pocket includes a HDMI port and USB port with power, allowing you to hide the TV stick inside the projector. We also provided a Fire TV 4K Max stick for you. You can stream your favorite platforms with AWOL VISION
5
【𝐌𝐨𝐫𝐞 𝐭𝐡𝐚𝐧 𝐖𝐚𝐭𝐜𝐡𝐢𝐧𝐠 𝐌𝐨𝐢𝐯𝐞𝐬】More than a 4k supported movie projector, JMGO O1 Pro gaming projector provides a responsive experience for casual gamers under Low Latency Mode, while Companion Mode consists of a Message Board, Music Visualizer and Digital Art Gallery which is ready to keep you 24/7 accompany. O1 Pro has multiple interfaces ports, HDMI*2, HDMI ARC, S/PDIF, DCIN, USB*2, RJ-45 Ethernet Port. It is also compatible with PS5, iPhone, switch, Mac and so on.
【𝐀𝐧 𝐋𝐄𝐃-𝐏𝐨𝐰𝐞𝐫 𝐔𝐥𝐭𝐫𝐚 𝐒𝐡𝐨𝐫𝐭 𝐒𝐡𝐫𝐨𝐰 𝐏𝐫𝐨𝐣𝐞𝐜𝐭𝐨𝐫】 Boasts with an ultra short throw design, JMGO O1 Pro 1080P FHD ultra short throw projector offers an immersive, uninterrupted movie experience at a home without space limitations. It only takes around 9 inches from the wall to project a massive 70"-110" screen. It features with a shorter throw ratio of 0.21:1.
【𝐏𝐨𝐰𝐞𝐫𝐟𝐮𝐥 𝐀𝐮𝐝𝐢𝐨】With a pair of 10-watt speakers, JMGO O1 Pro ultra short throw projector produces powerful stereo sound tuned by Dynaudio's chief acoustic engineer, JMGO projector earning dual certification from Dolby Audio and DTS-HD. It is easy to enjoy your party time in a 120 square meters large room, by the swimming pool, or even in the garden.
【𝐏𝐥𝐮𝐠-𝐚𝐧𝐝-𝐏𝐥𝐚𝐲】Comes with multiple intelligent features but easy setups in less than 3 steps. JMGO O1 Pro UST projector is equipped with auto focus and keystone correction enabled by the sensors and AI cameras, wall colour calibration, blu-ray 3d mode, gesture control, eye protection system and so on, making the O1 Pro short throw projector an even more sophisticated plug-and-play smart projector.
【𝐂𝐨-𝐞𝐧𝐠𝐢𝐧𝐞𝐞𝐫𝐞𝐝 𝐰𝐢𝐭𝐡 𝐋𝐞𝐢𝐜𝐚】The refined optical design of the LED engine co-engineered with Leica delivers images with a stronger contrast, better focus, and less stray light. Besides, O1 pro featured the 4k projector-supported technique and 120% NTSC colour, optimising the image more vivid and saturated. In addition, JMGO O1 Pro ultra short throw projector comes with 1500ANSI Lumens brightness and a 9000:1 Contrast for a decent viewing experience. it is also a durable home theatre projector with 45,000 hours of lamp life.
6
Picture Size up to 150" — Get closer to courtside for sports and gaming, or center stage for your favorite movies, with an immersive big picture; unlike regular-throw projectors, it offers hassle-free placement, projecting images up to 150" from just a few inches away
4K PRO-UHD (2) — A new type of 4K experience, utilizing advanced pixel-shifting technology to precisely control three individual high-definition LCD chips to produce an exceptionally sharp 4K experience without sacrificing picture brightness.
Modern Ultra Short Throw Laser Design — Sleek ultra short throw laser design seamlessly complements a variety of décor styles and audio/video furniture; features multi-point picture adjustment and individually adaptable feet for quick and easy setup
Amazing Built-in Sound from Yamaha — Built-in 2.1ch virtual surround system designed by Yamaha exclusively for Epson creates immersive sound performance with presets for TV, Sports Movies and Music; connect your smartphone via Bluetooth to use as standalone speaker
Epson SilverFlex Ambient Light Rejecting Screen (4) — Available and sold separately in two sizes, 100" and 120", these screens are engineered to absorb up to 90% of the ambient light to increase contrast and produce an astonishingly crisp picture
Outstanding Warranty & Service — 2-year limited warranty; two-business-day replacement with free shipping
10-Bit HDR — Full 10-bit HDR color processing accepting 100% of the HDR source. When combined with the extreme brightness of 4,000 lumens – HDR content is faithfully reproduced for an exceptional visual performance.
Supports the Latest Streaming, Gaming and Cable Boxes — Take maximum advantage of your favorite gaming consoles and streaming devices with three HDMI ports; fully compatible with virtually all color formats, depths and spaces while simultaneously supporting 4K HDR (1) content at a full 60 Hz; ideal for gaming content, one HDMI port is dedicated for gaming and supports 1080p/120 Hz signals
Smart Streaming Capability — Latest Android TV (5) interface with a simple-to-use remote—including voice search with built-in Google Assistant; watch all your favorite streaming channels including Amazon Prime Video, Hulu, Disney+, HBO Max, YouTube and more; even stream live TV with apps like YouTube TV (6)
Ideal for Bright Rooms — True 3-chip 3LCD technology displays a full 4,000 lumens (3) of color and white brightness for every frame, allowing for outstanding color accuracy while maintaining excellent color brightness without any distracting "rainbowing" or "color brightness" issues seen with other ultra short throw projection technologies
7
MOVIE NIGHT: Unique 98% DCI-P3 super wide color gamut and HDR-PRO technology delivers vibrant color performance. Choose filmmaker mode for your movie night. Utilizes Google-certified Android TV to easily stream/cast anything.
INDUSTRY LEADING WARRANTY: BenQ's 3-year warranty vs. top competitor's 1-year warranty provides a greater peace of mind with coverage that makes you rest easy that our US-based customer service team is available when you need it.
ULTRA SHORT THROW: 100" projection size at 8.7" projection distance; up to 123" projection size. The built-in rulers provides accurate measurements to project screen size. Installation guide with visual instructions provided fore easy DIY set up.
DLP TECHNOLOGY: DLP is the leading technology used in 90% of the world's cinemas and 100% of digital IMAX theaters. You will experience a longer lasting, sharper and crisper image with the V7050i projector
NOTE: Netflix is NOT natively available on this device. Please cast Netflix content ONLY via your laptop's Google Chrome Browser or HDMI connection.
AWARD WINNING PROJECTOR: Editor's Choice Award - Projector Central, HIGHLY RECOMMENDED - ProjectorReviews, & BEST PRODUCT AWARD 2021-2022 - EISA.
UPGRADE TO TRUE 4K: 2500 ANSI Lumens powered by DMD ECD for comfortable viewing in brightly lit rooms. True 4K 3840 × 2160 or 8.3 million Pixels give incredible clarity. NOT double HD or 2K.
8
POWERFUL SOUND – The Nova laser projector offers more than just stunning picture quality; it also boasts powerful 30W Dolby Audio DTS HD Speakers. This stereo provides crystal-clear audio precision tuned to accentuate the home theatre experience. If you already have a home cinema sound system, the Nova laser projector can be connected via HDMI output for best audio experience
ULTRA SHORT THROW – With 0.233:1 ultra short throw ratio, you can place this compact 4K laser projector inches from the wall and turn any room into a home cinema; get up to an astonishing 150" screen size by placing Nova just 35" away from the wall
MULTI-DEVICE VIDEO COMPATIBLE – Wireless casting to Nova with WiFi Bluetooth connection, compatible in projecting from iPhone, Android, iPad, Laptop, tablets, and other streaming devices. Multiple HDMI video slots, USB, built-in casting for video mirroring. Connect soundbar or stereo system flawlessly via HDMI
EASY ON THE EYES – Different from traditional TV using emitted light, WEMAX Nova uses light diffusion technology and reflects light to show images, making it easy on your eyes; plus it produces much larger images, which put less strain on your eyes
4K UHD LASER PROJECTOR – Superior Resolution might be an understatement. With 4K UHD and bright 2100 ANSI lumens (5000 lumen light source), you get 4x resolution of full HD or 1080p. Nova is built with industry-leading patented ALPD 3.0 and TI DLP technology. ALPD allows for light to be used more efficiently for finer detail across a wider color gamut and deeper vibrance for breathtaking video resolution. Short throw projector reduces eyestrain by diffusing light without losing picture quality
Choose the right size for your setting beginning at 80 inches, 100 inches, 120 inches, and 150 inches to project from. The distance from the light source to the screen is 18.5inch, 23.2inch, 27.9inch, 35inch, you can get 80, 100, 120, 150 inch image size respectively
Peace of Mind – The package includes: 1x WEMAX Nova Laser Projector, 1x remote control, 1 x power cord, 1 x user manual, 1 x cleaning cloth; backed by a 1-year warranty and professional support, feel free to contact us if you have any questions, we will get back to you within 24 hours
MAX 150-INCH PROJECTOR SCREEN SIZE - With the WEMAX Nova laser projector, you can choose from four different projector sizes. A massive screen size of up to 150" will be the center piece of your home theater. Choose the right size for your setting beginning at 80 inches, 100 inches, 120 inches, and 150 inches to project from. The 8-Point keystone correction dials in image quality, making micro adjustments for the perfect home cinema experience
SMART PROJECTOR, 5K APPS BUILT-IN – The Nova is a smart projector that comes loaded with thousands of apps at your fingertips powered by Android TV. Stream your favorite shows from Hulu, HBO Max, Showtime, Disney+, and many more. Use the voice command button to tell Nova what you want to watch. NOTE: Netflix is recommended in Aptoide TV or with a streaming device such as a connected Fire TV stick
9
True 3-Chip Projector Design — Advanced 3LCD technology displays 100% of the RGB color signal for every frame. This allows for outstanding color accuracy while maintaining excellent color brightness, without any distracting "rainbowing" or "color brightness" issues seen with other projection technologies.
Award-Winning Service & Support — Standard 2-year limited warranty, full-unit replacement, along with free technical phone support for the life of the product.
Elegant Design — Designed with simplicity in mind, the Epson EpiqVision LS300 Streaming Laser Projector has a clean and modern aesthetic to beautifully fit within any décor.
Even Better with a Screen — When used with an optional ALR screen, the visual performance is stunning and rivals the picture quality of the best televisions.
Chromecast Built-In — Wirelessly cast your favorite content directly from your smart phone, tablet, or computer – including from popular Android and Apple devices (4).
Stunning Picture Quality up to 120" – Delivers an immersive, bright viewing experience for TV shows, sporting events, gaming and movies by accepting content up to 4K – for an amazing Full-HD HDR picture (1).
Sound by Yamaha — Custom-designed audiophile 2.1 speaker system offers a powerful and emotional performance that rivals soundbars; connect via Bluetooth to use as standalone speaker.
Built-In Android TV (2) – Latest Android TV interface with a simple-to-use remote – including voice search with built-in Google Assistant. Watch all your favorite streaming channels including Hulu, HBO, Disney-plus, YouTube and more (3). Even stream live TV with apps like YouTube TV (3).
Advanced Scene Adaptive Color Correction — Automatic scene-based color correction produces a clear and natural picture – regardless of the content being played.
Ultra-Short Throw Laser Array Technology — Unique multi-array laser diode technology produces an exceptional level of brightness while significantly enhancing the black density.
10
4K UHD (3840x2160) Display
Bluetooth connectivity
HDR10 compatible
Up to 2700 ANSI Lumens brightness - laser projector (Class 1 laser)
Display a 120" Screen from just 7. 2 inch away from projector surface
Includes LG ThinQ AI
LG webOS lite. Use the included Magic Remote on this LG CineBeam projector to access LG's webOS smart TV operating system for all your favorite content streaming apps such as Netflix, Amazon Prime, and VUDU.
Alexa Built-In. Noise-26↓ / 28↓ / 30dB(A)↓
Product Images, Product Titles, Product Highlights from Amazon Product Advertising API
What to Look For in a best ultra short throw 4k projector?
Resolution
Although projectors have the ability to scale images either up or down it is best not to do so as this can cause distortions. Any projector resolution above and beyond WUXGA (1.920 by 1.200 pixels) should be matched to the source that you intend to attach it most frequently, which is a computer or other electronic equipment.
The calculation for projectors that have 4K ultra high definition (3,840 x 2,160 pixels) is slightly different.
Brightness
Projector brightness is not uniform. Brighter isn't always better.
The ambient lighting level, size and material of your projector screen will all affect the brightness. You should buy a professional seller if you are installing a projector in a permanent location, such as at your home, to ensure that you get the best image brightness and the correct screen material.
Projection Tech
Projectors can be either LCD-based, or they use a Texas Instruments DLP chip (Digital Light Processing), along with a laser or LED or LCOS light source.
DLP projectors with single-chip DLP chips could be subject to the so-called "rainbow effect." Sometimes, tiny, bright flashes with rainbow-like colors may appear, especially in dark scenes. Some DLP projectors have a minimal effect, while others can produce a distracting result, especially when there are bright areas against shady backgrounds. The rainbow effect is not a problem with LCD projectors, which are safer if someone in your household has sensitive eyes. There are many DLP projectors that produce excellent images.
Contrast Ratio
The ratio of brightness from the brightest white to the darkness of black a projector produces is called the contrast ratio. However, the rating of the projector will not usually be affected by it. A higher contrast ratio, which is the difference between how bright a projector can produce and how dark it can display, produces vivid, striking colors, and more detail in shadows. This is most important in video, film, and two-dimensional photos that are photorealistic.
Contrast ratings can only be used to measure in dark rooms. They don't give any information about ambient lighting. Unusually dark blacks in the projector will result in lower contrast. A brighter projector will perform well in home theaters, but not in living rooms or offices.
Light Source
Projectors are moving away from lamps being used as light sources and using lasers and LEDs. At the moment there is a benefit to each option.
For longer periods of time, LEDs and lasers retain a greater percentage of their original brightness. While all light sources eventually lose their brightness, lamps lose the most in 500 hours. Then, they slowly decline over time. The brightness of LEDs and lasers will decrease more slowly over the course of their lifetimes.
Connection Methods
Many home projectors have multiple connections options. Most new models have HDMI connectivity. This is a good thing because HDMI supports 1080p video. Standard, larger projectors come with full-size HDMI ports. However, smaller projectors like pico and palmtop have micro or mini HDMI ports. These ports require separate cables that are usually included with each projector.
Component video, composite video and S-Video all make up the most common connections on large projectors. We're also seeing more projectors that offer direct USB connection to computers via a USB cable. A growing variety of projectors now have USB Type-C ports. The majority of USB-C ports can be used to transfer data or video using the DisplayPort protocol. Most USB-C ports support USB Power Delivery (USB PD), which means that a plugged in projector can supply 100 watts of power to charge a device or to charge it using a USB-C cable (assuming the device is capable of charging over USB-C).
Portability
You should consider how easily the projector must be carried. There are many sizes and weights of portable projectors. Some can be small enough to slip into a pocket or large enough to mount on a wall. You can take a portable projector with you to work, as well as a gaming or entertainment projector, to your friend's home or backyard to set up for movie nights. Make sure the projector is both appropriate in size and weight. You should ensure that your projector has enough battery life if you are far from power outlets.
RELATED: The world is moving towards 4k and with that comes the need for a projector that can handle the increased resolution. We've found the smallest 4k projector for your need.
FAQs
What is an Ultra Short Throw 4K projector?
An Ultra Short Throw 4K projector is a type of projector that uses advanced technology to project a bright, high-definition image onto a large surface from a very short distance. It is designed to be placed near the wall or screen and is ideal for small or medium-sized rooms.
What are the different types of Ultra Short Throw 4K projectors?
There are several different types of Ultra Short Throw 4K projectors available, including LCD, LED, and laser projectors. Each type offers different benefits and features, so it is important to consider your needs and budget before making a decision.
How do I set up an Ultra Short Throw 4K projector?
Setting up an Ultra Short Throw 4K projector is generally a straightforward process. First, you will need to connect the projector to a power source, and then you will need to connect it to your device, such as a laptop, Blu-ray player, or streaming device. Finally, you will need to adjust the image size and position to get the best picture quality.
What are the benefits of using a 4K Ultra Short Throw (UST) Projector?
The main benefit of using a 4K Ultra Short Throw (UST) Projector is that it can produce a high-quality image from a very short distance away. This allows for a much larger image size than a standard projector, while still maintaining a high level of detail. Additionally, the short throw distance means that it does not need to be placed far away from the wall or screen, allowing for more flexibility in where it is placed.
Conclusion
So, what's the easiest approach to get the best ultra short throw 4k projector you need quickly? You may use what we know about cognitive neuroscience concepts in your marketing approach.
When choosing the ideal product, you must have a clear idea of what you want in terms of price, quality, and function. If you don't like any model in this list, then the Epson LS500 Projector will be your new buddy.
READ NEXT: The Best Wireless Router For Streaming Netflix To Tv In 2023